This project introduced Keller's Vibrocat to Indonesia for the first time for a project at Jakarta's biggest airport while terminal remained in operation. Keller tackled challenging soil properties and efficiently mitigated liquefaction potential, while ensuring high safety compliance.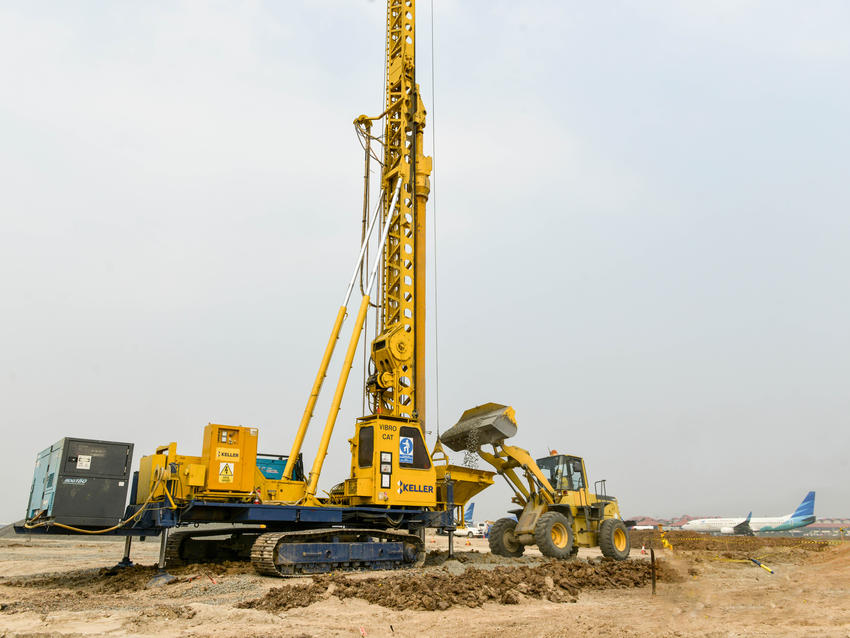 The project
To improve Jakarta International Airport's capacity, Keller was appointed in partnership with PT PP (Persero) Tbk to construct a third runway. The client needed Keller's experience in soil improvement through vibro stone columns.
The challenge
Our CPT results found sand layer in the work area, allowing potential liquefaction to cause damage. In addition, the average of ground water level was 2 meters below the platform. Keller had to closely monitor installation of each column and ensure that the required depth of treatment is reached.
The solution
Keller installed 500mm diameter vibro stone columns with dry bottom feed method to mitigate the liquefaction potential. Installation of each column was monitored very closely to ensure adequate treatment depth and compaction effort. Built-in Data Acquisition System within the rig was a key component that enabled accurate treatment depths as per design. Keller completed the project with excellent result and satisfied the client's requirements. The project became an addition to Keller's array of airport projects in the ASEAN region, including Kuala Lumpur International Airport 2 and Changi International Airport Singapore.