Keller employed the Vibro replacement method using Stone columns to treat the area approximately 55,000 square meters, the largest stone column project in Vietnam. The project was completed without major accidents and was 2 weeks ahead of schedule.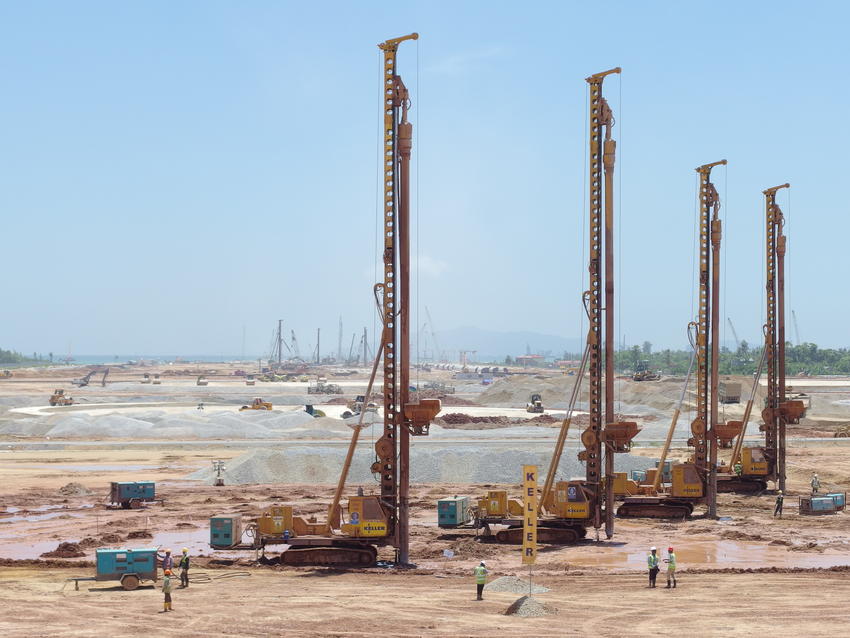 The project
The Nghi Son petrochemical refinery complex is a joint venture between state-owned PetroVietnam and foreign partners from Kuwait and Japan. The refinery complex is situated in Mai Lam area, Tinh Gia District, Thanh Hoa province, Vietnam. This is the country's second refinery and the largest project so far. The development consists of a plant area, a tank farm and jetty area.
The challenge
Approximately 130,000 linear meters of stone columns were installed using 5 Keller Vibrocats in a tight construction schedule. The challenges involved were to mobilize the rigs from Singapore to Vietnam, set-up a local team and train them to complete the project on time with good quality.
The solution
Using Keller's dry bottom feed method, Vibro stone columns were installed to depths of 18 m, supporting the 12 tanks up to 90 m in diameter and 19.9 m in height. The design loading was about 200 kPa. The area where the tank will be built was treated up to 3 m wide ring outside the tank footprint.
Project facts
Owner(s)
Idemitsu Kosan Company Limited, Mitsui Chemicals Inc., Kuwait Petroleum International,PetroVietnam
Main contractor(s)
JGC, Chiyoda Corp, SK Engineering & Construction Co. Limited, GS Engineering & Construction Corp