Unexpected highly variable soil and rock strata was drilled while maintaining quality, safety and program requirements. Cavity probing and grouting method helped to reduce the concrete consumption of bored pile installation in the later stage of construction.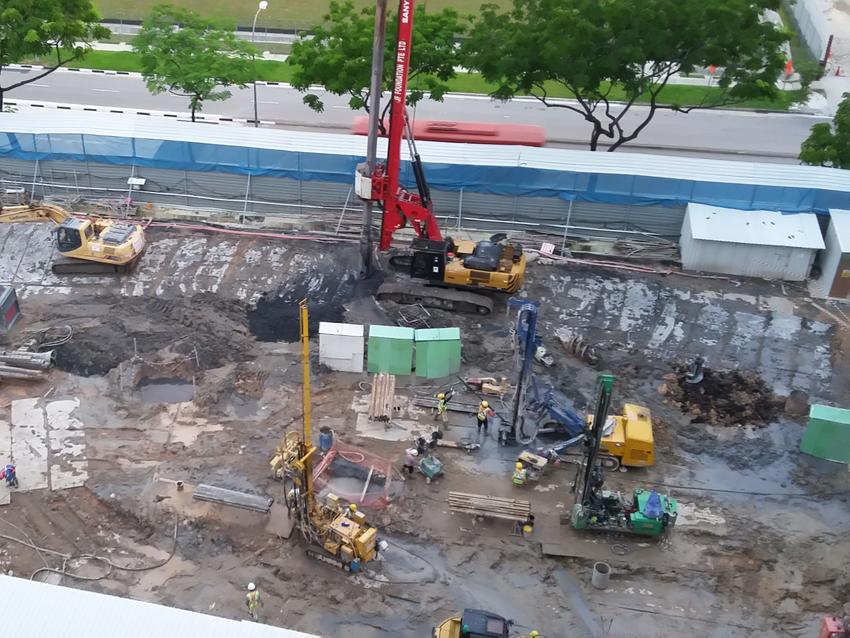 The project
As part of the public housing projects of Singapore Housing and Development Board, 5 residential blocks with multi-carparks are to be built at Jurong West Neighbourhood 1. Due to unforeseen cavities, significant concrete loss was encountered during the installation of ultimate load test pile. Keller proposed compaction grouting for filling the cavities in soft clay layer. Cavity probing and cavity grouting were also carried out in preparation for bored piling work. 
The challenge
The main challenge was the process of drilling through large variation of soil profile in a small site and near a residential area without compromising quality and project schedule. We engaged two subcontractors to carry out only drilling works. The work schedule was also carefully planned enabling us to control the cost.
The solution
In a small area of 38 m x 20 m, Keller performed cavity detection and cavity filling works using 4 drilling rigs and 1 grouting rig working with a boring rig and a crawler crane. Over 590 cubic meters of grout were used for both cavity filling and backfilling and more than 7,500 linear meters of drilling work was carried out down to 73 m. The work was completed on time. No more abnormal concrete loss encountered in the subsequent bored piling work.
Project facts
Owner(s)
Housing and Development Board
Main contractor(s)
China Construction (South Pacific) Development Co Pte Ltd