Keller overcame challenging worksites and interrupted work schedule to help create infrastructures that improve local communities. Excellent cooperation with client ensured worksite safety prior to mobilisation. The project required Keller to treat challenging soil properties with high variability of depth requirement.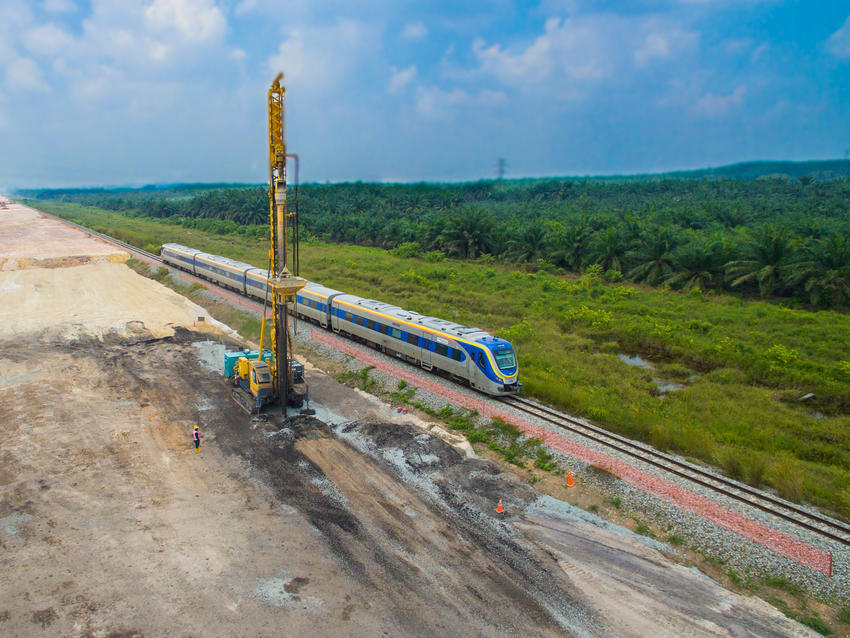 The project
The Electrified Double Track (EDT) Gemas to Johor Bahru Rail Project complement the current Electrified Train Service (ETS) which connects the north and south of Peninsular Malaysia. Keller was appointed to install stone columns for the track's embankment along various worksites and variable soil properties.
The challenge
Additional soil investigation results using CPT indicated that the soil properties are highly variable and requiring deeper depths. Keller also faced challenging worksites with soft and unsafe working platforms, posing higher risks for operations. On top of that, some worksites were very close to residential areas that due to safety and noise concerns, works were instructed to stop at 7 pm daily, instead of our initial 24-hour work schedule.
The solution
Regular communication with client allowed us to inspect each site prior to mobilisation to ensure safety. Meticulous liaison also helped Keller to meet each depth requirement for the various sites. Keller also complied with authorities' recommendations and took measures to minimise impacts on residents, as the local community is Keller's priority. We were able to help create valuable infrastructure for the community, ahead of schedule and with excellent results.
Project facts
Owner(s)
Malaysia Ministry of Transport
Main contractor(s)
CRCC-CREC-CCCC Consortium Sdn Bhd