Keller provided a customised, packaged solution comprising of different techniques for 48 hectares of new reclaimed land and showcased ground engineering expertise in both land and marine application, overcoming complex site with water outfall pipes and cable corridors nearby.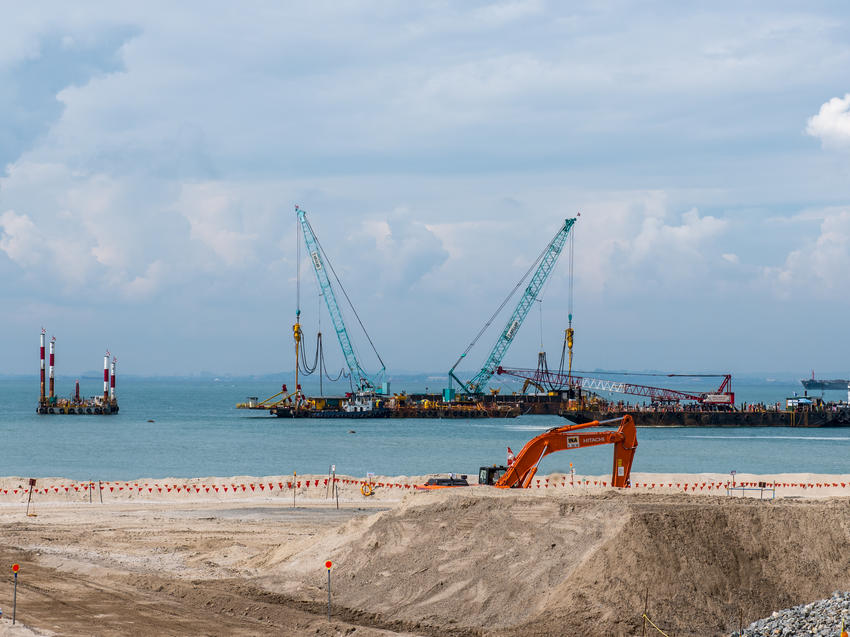 The project
Keller contributed again in the Singapore's land expansion on the same site where we did foundation works 17 years ago for what now is the outlet drain. This new expansion required various techniques and were carried out in a challenging site location, with cable corridors next to the site and water outfall pipes under the seabed just across the project.
The challenge
With stringent lateral movement requirements, Keller had to plan our ground improvement works to not affect existing water outfall pipes. To reduce the stress of overburden fill above the outfall pipes, the top 5m fill is replaced with light weight concrete. A trial compaction was carried out to determine the suitability of VC to compact the lightweight aggregates before the actual work begun.
The solution
Trial marine stone columns were installed 15m from the outfall pipes and resulted in no significant soil movement within safe distance. Keller also introduced the use of a special vibrator to compact the lightweight aggregate. We also performed marine stone columns installation, land and marine vibro compaction, rapid impact compaction and lightweight aggregate compaction required in the 48 hectares of new reclaimed land.
Project facts
Owner(s)
Housing and Development Board
Keller business unit(s)
Keller Foundations (S E Asia) Pte Ltd
Main contractor(s)
Hyundai Engineering Construction Co. Ltd